Occupational Therapy takes a whole person approach to both mental and physical well-being and can enable you to achieve your full potential.  Illness, disability, accidents and even old age can reduce a person's ability to manage independently, through targeted interventions designed to work on your goals Occupational Therapy can help you to reach you maximum potential and level of independence.
Occupation refers to practical and purposeful tasks that allow you to live your everyday life in a way that is meaningful to you.  This could be things like washing and dressing, meal preparation or leisure activities.  Occupational therapists are experts in finding solutions to everyday problems, from small pieces of equipment to skills training they can help you overcome your difficulties.  The support offered can help you to make a real difference, open up new horizons or change the way you feel about the future.  The aim is always to maximise your quality of life.
Common difficulties Occupational Therapy can help with
• Getting about  • Getting up and down from your chair, bed, car, toilet • Personal care, washing, bathing, showering, dressing • Preparing food • Maintain you household • Working or studying • Hobbies or leisure time
At Bodysym our occupational therapist can use a variety of techniques to help you on your way to well-being.  Your treatment programme will start with a full functional assessment in your own home, during this assessment we will look at what tasks you can and cannot manage, and what prevents you from doing the things you want to.  After the assessment the Occupational Therapist will discuss your options with you which may include:-
Compensatory techniques – learning new ways to carry out old activities that have become difficult or restricted.
Small aids and equipment – the use of specially designed equipment that may help compensate for loss of ability and return you to independence.
Confidence building – helping you to trust in yourself again and feel you can take on life's challenges.
Moving and handling – particularly important for those who may have sustained injury over a long period of time through repeated movements such as lifting, reaching and stretching.
Call 01843 590067 or email us to book an appointment today.
Our Clinic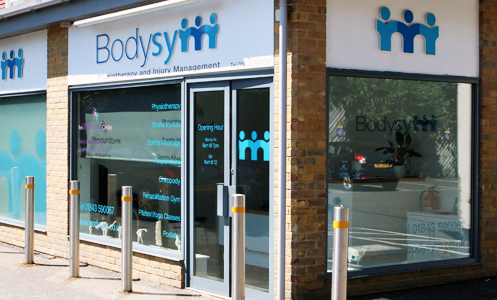 • Physiotherapy
• Chiropody
• Podiatry / Biomechanics
• Sports Injury Rehabilitation
• Sports performance evaluation
• Massage
• Pilates
What our clients say…
Fantastic treatment today from Craig!! Cannot thank him enough for getting me patched up and moving easier, especially when I do insist on getting back on stage tonight! You are my superstar! 5 stars!!

K Wilshaw- Westgate
Matt is brilliant. After ACL reconstruction he is such a positive influence on my physical journey to recovery. Highly recommended.

Kristina-Ramsgate
Very good service. Polite, courteous and efficient.

Paul – Ramsgate
The quality of the specialist expertise of the physiotherapist in the practice is simply outstanding – by far the best in terms of effective treatment I have ever experienced.

C Corfield – Whitstable
Took my 12yr old son to see Craig today. Brilliant! amazing Physio but more importantly great at talking to kids. Highly recommended. My son now wants to be a sports Physio and Parkour coach. Life goals sorted!

Sandra- Margate
Been to see Matt twice now and his knowledge is second to none.
Friendly staff too. Yes I would recommend this place.

Clare – Ramsgate
Professional clinic and skilled physiotherapists helped me manage my ongoing pain.

Hannah – Ramsgate
Excellent service highly recommended for post operative physio
5 stars!!

Lisa – Ramsgate