Welcome to Bodysym Online
We may not be here in the flesh but we are still here! Virtually!
We have the tech and we have the knowhow. We can now offer virtual appointments via skype, facetime or zoom. We are also more than happy to simply talk to you on the phone.
Now, you can speak to one of our physios virtually face to face if you are struggling and want some advice on a new or existing injury or you simply want to progress and keep a check on your rehab.
Exercises can also be sent to you on video via email, so you can keep up with what you need to do to stay healthy.
Click here to arrange your virtual appointment or to ask for a chat.
To our Dear Friends and Clients
On Friday we made the decision that it would not be in anybody's best interest to continue to keep the clinic open.
The progress of the Covid-19 Virus has now escalated to the point where every one of us has to be doing all we can to ensure we all get through this with our loved ones safe and healthy.
We feel that continuing to see patients in the clinic would be a slap in the face to all of the hardworking and dedicated NHS staff who are putting their lives at risk 24 hours a day to keep us safe and well. We must also remember other front line workers who will continue to be in close contact with people in order for us as a nation to function as best we can.
Due to the nature of our work we understand that there will be many of our current patients still struggling with their injuries and will be worried that the support we were offering has gone.
In the next couple of days we will be publishing information on Facebook and our website about how we will be supporting you over the next couple of months. We will be able to help those who need it using the good old fashioned telephone, email and also online via Facetime, Skype and Zoom.
In the meantime we can be reached on the clinic email
We would all like to take this opportunity to thank all of our colleagues and patients for supporting us over the past seven years. It's been a pleasure.
We also hope you all stay fit and healthy. Stay strong everyone
x
Physiotherapy and Injury Management Clinic in Ramsgate
Want expert help with that painful back? Got a problem with your feet? Need some body-boosting massage?
We can help. We're a friendly team of skilled professionals who specialise in physiotherapy for all kinds of common joint, bone or muscle pain, issues and injury. We also offer a wide range of massage, podiatry (foot care) and specialist treatments at our purpose-built health clinic in Ramsgate, East Kent.
However you're feeling, we'll get you better.
• Physiotherapy • Chiropody • Podiatry / Biomechanics • Sports Injury Rehabilitation • Sports performance evaluation • Massage • Nutrition
Call 01843 590067 to find out how we can help or book an appointment
Our Clinic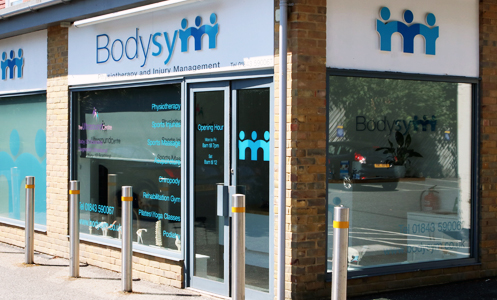 • Physiotherapy
• Chiropody
• Podiatry / Biomechanics
• Sports Injury Rehabilitation
• Sports performance evaluation
• Massage
• Pilates
What our clients say…
The quality of the specialist expertise of the physiotherapist in the practice is simply outstanding – by far the best in terms of effective treatment I have ever experienced. [Read more testimonials]

C Corfield – Whitstable
Professional clinic and skilled physiotherapists helped me manage my ongoing pain.
[Read more testimonials]


Hannah – Ramsgate