We have been advised by the Government, the Chartered Society of Physiotherapy and The Society of Podiatrists that we should continue providing essential healthcare throughout this period.
We are pleased to be able to continue providing Physio, Chiropody and rehab Pilates (details of which will follow). Sadly, we are unable to continue massage for now, but it will be back!!
We have now been implementing our strict safety precautions for over six months. We are a small independent clinic allowing us to very tightly control our safety measures and our clinical and admin staff are pleased to continue to welcome patients who need our help.
Please visit the COVID health section of our website to see how we are working hard to provide our healthcare as safely as possible.
Physiotherapy and Injury Management Clinic in Ramsgate
Want expert help with that painful back? Got a problem with your feet? Need some body-boosting massage?
We can help. We're a friendly team of skilled professionals who specialise in physiotherapy for all kinds of common joint, bone or muscle pain, issues and injury. We also offer a wide range of massage, podiatry (foot care) and specialist treatments at our purpose-built health clinic in Ramsgate, East Kent.
However you're feeling, we'll get you better.
• Physiotherapy • Chiropody • Podiatry / Biomechanics • Sports Injury Rehabilitation • Sports performance evaluation • Massage • Nutrition
Call 01843 590067 to find out how we can help or book an appointment
COVID Health
Over the past few months we have had to adopt new ways of working so we can help you get over your aches and pains whilst maintaining safety for all.
Since we have been given the go ahead to reopen by our governing body we have been working hard behind the scenes to adopt all NHSE, PHE and CSP guidelines in relation to full PPE use and procedures to allow us to practice 'normally'. As and when Government guidance changes we will naturally alter our policies to ensure ongoing safety for both you and our staff.
We have put into place online versions of the paperwork you would normally have to fill out in the clinic so you don't have to spend time hanging around in the clinic before your appointment and we have also published some of the other information you will need before you come to the clinic in our new COVID health section.
You are also more than welcome to call us for a chat if you need further reassurance or advice.
Welcome to Bodysym Online
We are here in the flesh but we are also still here virtually!
We have the tech and we have the knowhow. We can now offer virtual appointments via Skype, Facetime, Whatsapp or Zoom.
Following the success of our Bodysym Online service during lockdown, we are happy to continue this popular service. You can speak to one of our physios virtually face to face if you are struggling and want some advice on a new or existing injury or you simply want to progress and keep a check on your rehab. This might be more convenient if you're still shielding or would prefer not to come into the clinic, but also if you're working away or are just unable to get to the clinic.
Exercises can also be sent to you on video via email, so you can keep up with what you need to do to stay healthy.
Click here to arrange your virtual appointment or to ask for a chat.
Our Clinic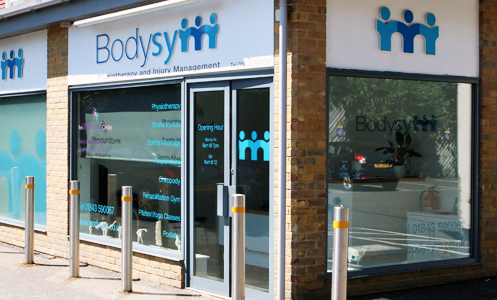 • Physiotherapy
• Chiropody
• Podiatry / Biomechanics
• Sports Injury Rehabilitation
• Sports performance evaluation
• Massage
• Pilates
What our clients say…
Fantastic treatment today from Craig!! Cannot thank him enough for getting me patched up and moving easier, especially when I do insist on getting back on stage tonight! You are my superstar! 5 stars!!

K Wilshaw- Westgate
Matt is brilliant. After ACL reconstruction he is such a positive influence on my physical journey to recovery. Highly recommended.

Kristina-Ramsgate
Very good service. Polite, courteous and efficient.

Paul – Ramsgate
The quality of the specialist expertise of the physiotherapist in the practice is simply outstanding – by far the best in terms of effective treatment I have ever experienced.

C Corfield – Whitstable
Took my 12yr old son to see Craig today. Brilliant! amazing Physio but more importantly great at talking to kids. Highly recommended. My son now wants to be a sports Physio and Parkour coach. Life goals sorted!

Sandra- Margate
Been to see Matt twice now and his knowledge is second to none.
Friendly staff too. Yes I would recommend this place.

Clare – Ramsgate
Professional clinic and skilled physiotherapists helped me manage my ongoing pain.

Hannah – Ramsgate
Excellent service highly recommended for post operative physio
5 stars!!

Lisa – Ramsgate