At Bodysym, our experienced nutrition coach can assist you in figuring out your calorie & food portion goals, make adjustments to your eating habits, and help ensure that you maintain a healthy weight – Whether that's trying to reduce body fat or increase lean mass.
This includes taking body measurements, formulating a diet & workout plan that fits your lifestyle, reviewing & adjusting for progress, and having your very own coach to assist you every step of the way.
We can clear up any food & dieting myths you've heard, and ensure that you have a happy & healthy relationship with food while working towards long-term, sustainable progress.
Cost of service:
£40 initial consultation (40 mins)
£40 follow-up consultation (40 mins)
£215 block of 6 sessions; Recommended (Save £25)
Athletic Development
This service is tailored to competitive athletes looking to gain the athletic edge. Our experienced fitness coach & access to the lab means we can track your performance markers (i.e. body fat percentage, eating habits, etc.) and formulate a plan that improves your recovery, leading to more effective training sessions & better performances.
This includes formulating the correct diet plan with ingredients & quantities that will help promote energy, recovery & improvements to body composition. The lab is also available to test performance markers and track quantitative data.
Cost of service:
£40 initial consultation (40 mins)
£40 follow-up consultation (40 mins)
£215 block of 6 sessions; Recommended (Save £25)
Frequently Asked Questions
What can I expect from my first consultation?
Your initial consultation lasts 40 minutes. To gage an understanding of what you need, we ask lots of specific questions regarding your health, diet & lifestyle. You can discuss any allergies/possible sensitivities to certain foods, any health concerns or eating disorders you may or may not have. Everything is completely confidential.
What should I wear?
You can wear whatever clothing you feel most comfortable in. We do ask that you keep some loose-fitting, comfortable clothes handy along with trainers if we are to use the lab for exercises purposes.
Don't worry if you forget, we keep a stock of clean sportswear here. You're welcome to change in private if you prefer and can provide a chaperone when needed.
Should I bring anything with me?
Please bring any details of medications you take, any possible food allergies/intolerances, and if you have health insurance, remember to bring details. If your GP or consultant has stated specific dietary guidelines you must follow, please bring the relevant information.
Call 01843 590067 or email us to book an appointment
Our Clinic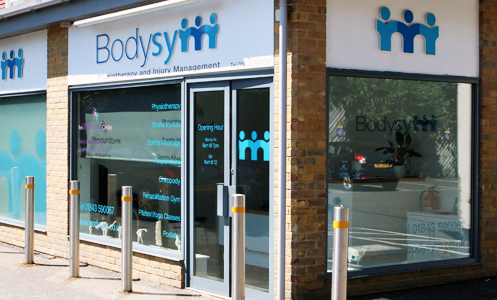 • Physiotherapy
• Chiropody
• Podiatry / Biomechanics
• Sports Injury Rehabilitation
• Sports performance evaluation
• Massage
• Pilates
What our clients say…
Fantastic treatment today from Craig!! Cannot thank him enough for getting me patched up and moving easier, especially when I do insist on getting back on stage tonight! You are my superstar! 5 stars!!

K Wilshaw- Westgate
Matt is brilliant. After ACL reconstruction he is such a positive influence on my physical journey to recovery. Highly recommended.

Kristina-Ramsgate
Very good service. Polite, courteous and efficient.

Paul – Ramsgate
The quality of the specialist expertise of the physiotherapist in the practice is simply outstanding – by far the best in terms of effective treatment I have ever experienced.

C Corfield – Whitstable
Took my 12yr old son to see Craig today. Brilliant! amazing Physio but more importantly great at talking to kids. Highly recommended. My son now wants to be a sports Physio and Parkour coach. Life goals sorted!

Sandra- Margate
Been to see Matt twice now and his knowledge is second to none.
Friendly staff too. Yes I would recommend this place.

Clare – Ramsgate
Professional clinic and skilled physiotherapists helped me manage my ongoing pain.

Hannah – Ramsgate
Excellent service highly recommended for post operative physio
5 stars!!

Lisa – Ramsgate