Many people still think of golf as a non-strenuous sport. But the modern golf swing is all about power and efficiency. Even experienced amateur golfers – who're not usually as super-fit as the pros – often suffer from pain in the lower back, wrist, elbow or shoulder due to incorrect technique.
We can develop a personalised exercise programme to make sure no undue stress is placed on your body while you golf. This can also help you avoid tissue damage that could cause injury and pain.
Golf fitness screening: The safe way to improve your play
At Bodysym our golf specialist Llewellyn can analyse your body dynamics to identify any physical issues that could be affecting the efficiency of your swing.
Whatever level you play at, making changes can help improve your performance, prevent injury and keep you playing pain-free for longer.
Our Clinic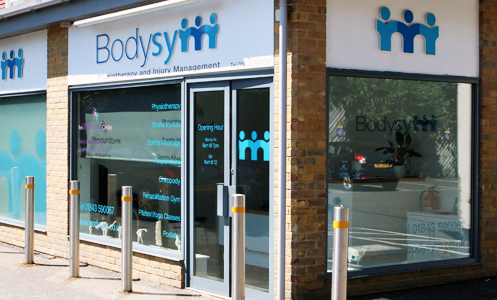 • Physiotherapy
• Chiropody
• Podiatry / Biomechanics
• Sports Injury Rehabilitation
• Sports performance evaluation
• Massage
• Pilates
What our clients say…
Fantastic treatment today from Craig!! Cannot thank him enough for getting me patched up and moving easier, especially when I do insist on getting back on stage tonight! You are my superstar! 5 stars!!

K Wilshaw- Westgate
Matt is brilliant. After ACL reconstruction he is such a positive influence on my physical journey to recovery. Highly recommended.

Kristina-Ramsgate
Very good service. Polite, courteous and efficient.

Paul – Ramsgate
The quality of the specialist expertise of the physiotherapist in the practice is simply outstanding – by far the best in terms of effective treatment I have ever experienced.

C Corfield – Whitstable
Took my 12yr old son to see Craig today. Brilliant! amazing Physio but more importantly great at talking to kids. Highly recommended. My son now wants to be a sports Physio and Parkour coach. Life goals sorted!

Sandra- Margate
Been to see Matt twice now and his knowledge is second to none.
Friendly staff too. Yes I would recommend this place.

Clare – Ramsgate
Professional clinic and skilled physiotherapists helped me manage my ongoing pain.

Hannah – Ramsgate
Excellent service highly recommended for post operative physio
5 stars!!

Lisa – Ramsgate