Shockwave therapy is a well-researched, non-invasive way to stimulate the healing process for sports injuries, or tendon problems that are slow to heal. We've been using this leading technology to treat chronic conditions at Bodysym since 2017 and have seen excellent results.
How does shockwave therapy work?
The machine creates energy using mechanical movements which send out pressure 'shockwaves' against the skin. It incorporates the same technology as is used to break down kidney stones.
The process can feel slightly (but not majorly) uncomfortable and there are real benefits. By closely targeting affected areas, shockwave supports and stimulates your natural healing processes.
Trigger points (muscle knots) • Plantar Fasciitis • Tennis and Golfer's elbow • Achilles tendinopathy (inflamed heel tendon) • Patella tendinopathy (inflamed knee tendon) • Shin splints • Iliotibial band pain (inflammation of ligament running outside of thigh from hip to shin) • Gluteal tendinopathy (buttock pain) • Hamstring tendinopathy • Deep muscle pain relief
Reduce pain
The machine's hand piece sends intensive pulses to your affected area that help inhibit the transmission of pain.
Improve circulation
The pulsing vibrations promote blood flow through the tissue which encourages healing and boosts metabolism.
Restore muscle tone
Shockwaves help to reduce the impact of pain on muscle tone.
Feel the difference
Book an individual Shockwave session to give it a try. Or you can opt for the more cost-effective 3-session package.
Call 01843 590067 or email us to book an appointment today.
Our Clinic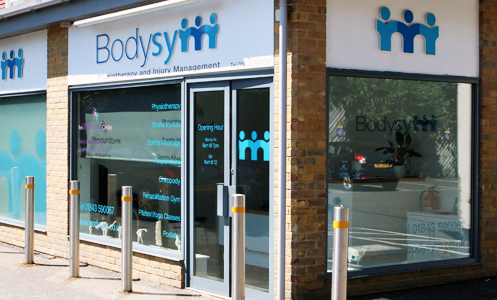 • Physiotherapy
• Chiropody
• Podiatry / Biomechanics
• Sports Injury Rehabilitation
• Sports performance evaluation
• Massage
• Pilates
What our clients say…
Fantastic treatment today from Craig!! Cannot thank him enough for getting me patched up and moving easier, especially when I do insist on getting back on stage tonight! You are my superstar! 5 stars!!

K Wilshaw- Westgate
Matt is brilliant. After ACL reconstruction he is such a positive influence on my physical journey to recovery. Highly recommended.

Kristina-Ramsgate
Very good service. Polite, courteous and efficient.

Paul – Ramsgate
The quality of the specialist expertise of the physiotherapist in the practice is simply outstanding – by far the best in terms of effective treatment I have ever experienced.

C Corfield – Whitstable
Took my 12yr old son to see Craig today. Brilliant! amazing Physio but more importantly great at talking to kids. Highly recommended. My son now wants to be a sports Physio and Parkour coach. Life goals sorted!

Sandra- Margate
Been to see Matt twice now and his knowledge is second to none.
Friendly staff too. Yes I would recommend this place.

Clare – Ramsgate
Professional clinic and skilled physiotherapists helped me manage my ongoing pain.

Hannah – Ramsgate
Excellent service highly recommended for post operative physio
5 stars!!

Lisa – Ramsgate