Sports massage is deep massage that specifically targets soft tissues such as muscle, tendons and fascia (the protective sheath that wraps round all our muscles and organs). We use it to help treat increased muscle tension, trigger points (muscle knots) and thickened connective tissue.
Sports massage is not just for elite athletes
Whatever your level of sporting ability, it's worth knowing a good sports massage therapist. We can help you before and after regular or event training, with regular body maintenance and with recovery from injury.
Used alongside a stretching programme, sports massage can ease your recovery from repetitive muscular contractions and DOMS (delayed onset muscle soreness), that achy feeling you get after tough exercise.
Massage before/after a race or event
Pre-race massage gets your body ready to run and helps ward off injury by preparing muscles and joints for the race ahead. It's best done briskly (but not deeply) just before an event.
After an event, rhythmic gentle massage is great for easing tired tissues and preventing DOMS (delayed onset muscle soreness). Pre- and post-event massage is often available at races – just ask the organiser.
Maintenance sports massage
Massage between training sessions can help loosen tightness in soft tissues to improve performance and prevent injury. This can be a great addition to your training programme, especially if you're preparing for an endurance event such as a half or full marathon.
Massage for injury
Sports massage can also help treat soft tissue injuries to reduce your recovery time and get you back in action.
Book a sports massage. Call 01843 590067 or email us to book an appointment today.
Our Clinic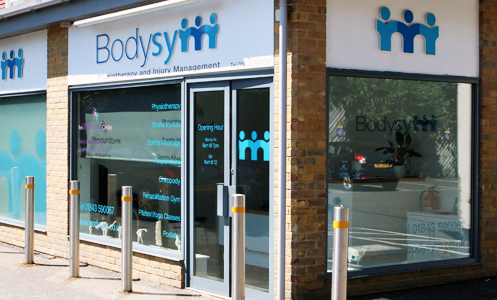 • Physiotherapy
• Chiropody
• Podiatry / Biomechanics
• Sports Injury Rehabilitation
• Sports performance evaluation
• Massage
• Pilates
What our clients say…
Fantastic treatment today from Craig!! Cannot thank him enough for getting me patched up and moving easier, especially when I do insist on getting back on stage tonight! You are my superstar! 5 stars!!

K Wilshaw- Westgate
Matt is brilliant. After ACL reconstruction he is such a positive influence on my physical journey to recovery. Highly recommended.

Kristina-Ramsgate
Very good service. Polite, courteous and efficient.

Paul – Ramsgate
The quality of the specialist expertise of the physiotherapist in the practice is simply outstanding – by far the best in terms of effective treatment I have ever experienced.

C Corfield – Whitstable
Took my 12yr old son to see Craig today. Brilliant! amazing Physio but more importantly great at talking to kids. Highly recommended. My son now wants to be a sports Physio and Parkour coach. Life goals sorted!

Sandra- Margate
Been to see Matt twice now and his knowledge is second to none.
Friendly staff too. Yes I would recommend this place.

Clare – Ramsgate
Professional clinic and skilled physiotherapists helped me manage my ongoing pain.

Hannah – Ramsgate
Excellent service highly recommended for post operative physio
5 stars!!

Lisa – Ramsgate