Get your feet feeling good and looking their best
Bodysym's resident foot expert is Tom Evans, an experienced HCPC-registered podiatrist who's worked in both private practice and the NHS.
Tom and his skilled team offer safe skin and nail care for people of all ages, including:
Expert nail-cutting  • Treatment for corns, calluses, verrucas, warts, ingrown or thickened nails, hard skin, cracked heels and tinea (conditions such as athlete's foot) • Professional foot health advice to prevent future problems
Toenail tidy-up
Struggling to reach your nails? Finding your feet hard to manage? Whether you want to tackle dry skin or get nails glowing again, our team can help.
Ingrown toenails and nail surgery
When it comes to ingrowers, we focus on being as gentle as possible to give you lasting relief. If simple treatments don't help, surgery can be effective for ingrown, thickened, damaged, abnormally curved or fungus-infected nails.
Nail surgery is performed under local anaesthetic and usually takes less than 30 minutes. • Using sterilised tools, the podiatrist gently lifts and trims away the affected area of nail. • Then the growth plate is destroyed using a chemical to stop the nail growing back. • The skin is not cut or stitched so recovery time is short.  • Once fully healed, the nail looks normal, just slightly narrower than before. • Most people find the procedure fairly pain-free and can get back to normal the next day.
Discoloured toenails
White, yellow or greenish nails can arise due to infections and skin conditions. 50% of cases stem from fungal infections, others from nail polish staining, damage, trauma or health problems. If you don't know the cause, we'll find out.
Nail care for diabetics
Diabetic feet need special care, so we offer services including safe skin/nail care, diabetes education and annual assessments.
Cracked heels
We'll have you sandal-ready in no time! Our therapist gently buffs off dry dead skin to leave heels baby-smooth. If needed, we can dress or tape larger cracks to aid healing, and assess whether the cracking is due to an underlying condition.
We'll keep you on your feet
Call 01843 590067 or email us to book an appointment today.
Our Clinic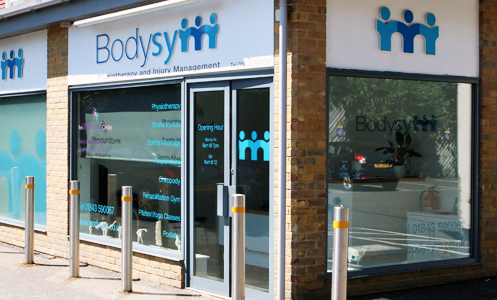 • Physiotherapy
• Chiropody
• Podiatry / Biomechanics
• Sports Injury Rehabilitation
• Sports performance evaluation
• Massage
• Pilates
What our clients say…
Fantastic treatment today from Craig!! Cannot thank him enough for getting me patched up and moving easier, especially when I do insist on getting back on stage tonight! You are my superstar! 5 stars!!

K Wilshaw- Westgate
Matt is brilliant. After ACL reconstruction he is such a positive influence on my physical journey to recovery. Highly recommended.

Kristina-Ramsgate
Very good service. Polite, courteous and efficient.

Paul – Ramsgate
The quality of the specialist expertise of the physiotherapist in the practice is simply outstanding – by far the best in terms of effective treatment I have ever experienced.

C Corfield – Whitstable
Took my 12yr old son to see Craig today. Brilliant! amazing Physio but more importantly great at talking to kids. Highly recommended. My son now wants to be a sports Physio and Parkour coach. Life goals sorted!

Sandra- Margate
Been to see Matt twice now and his knowledge is second to none.
Friendly staff too. Yes I would recommend this place.

Clare – Ramsgate
Professional clinic and skilled physiotherapists helped me manage my ongoing pain.

Hannah – Ramsgate
Excellent service highly recommended for post operative physio
5 stars!!

Lisa – Ramsgate