COVID-19 UPDATE
Podiatrists and Podiatric surgeons are key to the successful management of foot & lower limb pathology that will help avoid unnecessary visits to acute hospitals and in some cases admissions. Currently, it is more important than ever to avoid all avoidable hospital admissions.
Supporting the management of high-risk foot patients, to help avoid complications such as ulceration and specifically infection is essential.
Therefore we will be running a very minimal service for patients who are at high risk of complications that may result in hospital admission.
All routine and non-urgent treatments and assessments will be delayed until further notice for patients with low risk feet or they can be offered a remote consultation as per COP guidance
High risk conditions include:
Diabetic patients
Patient with ulcers and those who have had ulcers previously
Ingrowing toenails
Corns or Calluses that have previously bled or ulcerated
If you have any of the above conditions please email us on: 
The clinic is unmanned at this time. Your email will be picked up and forwarded to Chiropody who will triage and call you to ascertain whether you are a high risk footcare patient and require a consultation. 
Please do not call the clinic as we are not routinely picking up calls.
Chiropody will be seeing patients twice a week and booked in according to priority
PLEASE NOTE. THERE ARE STRICT INFECTION CONTROL POLICIES CURRENTLY ACTIVE IN THE CLINIC. PATIENTS WILL BE SEEN IN ACCORDANCE WITH COVID-19 CLINICAL GUIDANCE OF THE COLLEGE OF PODIATRY
IF YOU SHOW ANY OF THE SIGNS OF COVID-19 INFECTION YOU MUST SELF ISOLATE FOR 7 DAYS. IF ANY OF YOUR HOUSEHOLD SHOW SYMPTOMS YOU MUST SELF ISOLATE FOR 14 DAYS
Get your feet feeling good and looking their best
Bodysym's resident foot expert is Tom Evans, an experienced HCPC-registered podiatrist who's worked in both private practice and the NHS.
Tom and his skilled team offer safe skin and nail care for people of all ages, including:
Expert nail-cutting  • Treatment for corns, calluses, verrucas, warts, ingrown or thickened nails, hard skin, cracked heels and tinea (conditions such as athlete's foot) • Professional foot health advice to prevent future problems
Toenail tidy-up
Struggling to reach your nails? Finding your feet hard to manage? Whether you want to tackle dry skin or get nails glowing again, our team can help.
Ingrown toenails and nail surgery
When it comes to ingrowers, we focus on being as gentle as possible to give you lasting relief. If simple treatments don't help, surgery can be effective for ingrown, thickened, damaged, abnormally curved or fungus-infected nails.
Nail surgery is performed under local anaesthetic and usually takes less than 30 minutes. • Using sterilised tools, the podiatrist gently lifts and trims away the affected area of nail. • Then the growth plate is destroyed using a chemical to stop the nail growing back. • The skin is not cut or stitched so recovery time is short.  • Once fully healed, the nail looks normal, just slightly narrower than before. • Most people find the procedure fairly pain-free and can get back to normal the next day.
Discoloured toenails
White, yellow or greenish nails can arise due to infections and skin conditions. 50% of cases stem from fungal infections, others from nail polish staining, damage, trauma or health problems. If you don't know the cause, we'll find out.
Nail care for diabetics
Diabetic feet need special care, so we offer services including safe skin/nail care, diabetes education and annual assessments.
Cracked heels
We'll have you sandal-ready in no time! Our therapist gently buffs off dry dead skin to leave heels baby-smooth. If needed, we can dress or tape larger cracks to aid healing, and assess whether the cracking is due to an underlying condition.
We'll keep you on your feet
Call 01843 590067 or email us to book an appointment today.
Our Clinic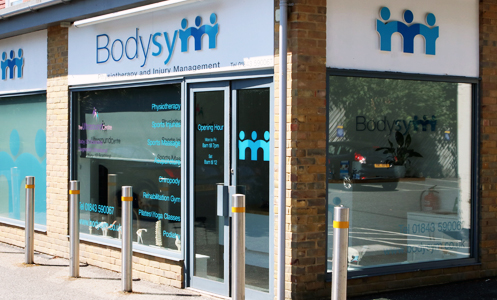 • Physiotherapy
• Chiropody
• Podiatry / Biomechanics
• Sports Injury Rehabilitation
• Sports performance evaluation
• Massage
• Pilates
The quality of the specialist expertise of the physiotherapist in the practice is simply outstanding – by far the best in terms of effective treatment I have ever experienced. [Read more testimonials]

C Corfield – Whitstable
Professional clinic and skilled physiotherapists helped me manage my ongoing pain.
[Read more testimonials]


Hannah – Ramsgate