They say running comes naturally but in reality, not everyone is well-designed for it. This popular form of exercise actually exposes the body to major loads. Around three to four times our own weight goes through the body each time our foot strikes the ground.
At Bodysym, running-related injuries are some of the most common complaints we see. Each year an estimated 27-70% of recreational runners suffer lower limb injury due to putting more load on their body than it's used to, usually by training incorrectly.
• Lower back pain • Buttock pain (Piriformis syndrome) and sciatic nerve irritation • Shin splints • Stress fractures of foot, shin, hip and even lumbar spine • knee cap (Patello-femoral) pain • Patellar and Achilles tendonitis • Iliotibial band syndrome (tightness/inflammation of ligament running down the outside of the thigh from hip to shin) • Hamstring overuse injury
Stop running and see a physio
If you're suffering with any of the above, please come and see us. If you keep running through it and things don't improve or get worse, reduce your training to a comfortable level and ask our advice.
We carry out a complex biomechanical analysis of your body, and video-analyse your running style to find out what could be causing problems. After assessment, we develop a treatment plan to get you back to your pre-injury fitness level.
Call 01843 590 067 or email us to book your appointment.
Our Clinic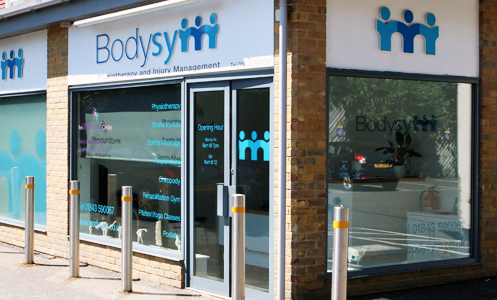 • Physiotherapy
• Chiropody
• Podiatry / Biomechanics
• Sports Injury Rehabilitation
• Sports performance evaluation
• Massage
• Pilates
What our clients say…
Fantastic treatment today from Craig!! Cannot thank him enough for getting me patched up and moving easier, especially when I do insist on getting back on stage tonight! You are my superstar! 5 stars!!

K Wilshaw- Westgate
Matt is brilliant. After ACL reconstruction he is such a positive influence on my physical journey to recovery. Highly recommended.

Kristina-Ramsgate
Very good service. Polite, courteous and efficient.

Paul – Ramsgate
The quality of the specialist expertise of the physiotherapist in the practice is simply outstanding – by far the best in terms of effective treatment I have ever experienced.

C Corfield – Whitstable
Took my 12yr old son to see Craig today. Brilliant! amazing Physio but more importantly great at talking to kids. Highly recommended. My son now wants to be a sports Physio and Parkour coach. Life goals sorted!

Sandra- Margate
Been to see Matt twice now and his knowledge is second to none.
Friendly staff too. Yes I would recommend this place.

Clare – Ramsgate
Professional clinic and skilled physiotherapists helped me manage my ongoing pain.

Hannah – Ramsgate
Excellent service highly recommended for post operative physio
5 stars!!

Lisa – Ramsgate