Meet the team
The Bodysym team is made up of skilled professionals who all have extensive experience in their specialist fields. That includes treating sports injuries, spinal problems, occupational health issues, post-op recovery – and much more.
Pleased to meet you…
Matt Baker - Physiotherapist/Director
BSc (Hons) MCSP HCPC Pg Dip Erg
Matt graduated from the University of Brighton over 16 years ago. Even during his physio training Matt realised his sports background would be the basis for his specific interest in musculoskeletal and sports physiotherapy. Since qualifying Matt has gained a wealth of clinical experience including a 5 year spell working in Sydney, Australia he returned to Kent In order to join the Bodysym practice.
[Read More]
Craig Hayle - Physiotherapist/Director
BSc (Hons) Pg Dip (Neuromusculoskeletal Physiotherapy) MMACP HCPC MCSP OCPPP
After qualifying at the University of Bradford in 1997, Craig worked as a musculoskeletal physiotherapist for the NHS and in the private sector. He went on to complete a postgrad diploma in Neuromusculoskeletal Physiotherapy at the University of Brighton and joined the manipulative association of physiotherapists.
[Read More]
Llewellyn Boucher - Physiotherapist
BSc (Hons) MSc MCSP HCPC
South African-born Llewellyn moved to England in 2002 after completing a BSc (Hons) in Physiotherapy at the University of Stellenbosch and now calls Kent his home. He's worked as a senior physiotherapist in departments including A&E, elderly rehabilitation, sports injury clinics and musculoskeletal outpatient clinics. 
[Read More]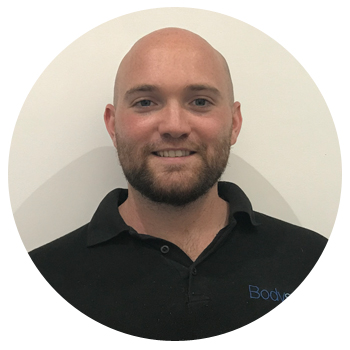 Thomas Evans Podiatrist
BSc(HONS) Pod, HCPC, DPodM
Thomas graduated in 2011 having undertaken a course leading to a Bachelor of Science in Podiatry with honours, at the University of Brighton, School of Health Professions.
[Read More]
Neil Smith
Pilates Instructor
After suffering back issues from an early age – and having two spinal operations – Neil was recommended to try Pilates. When he discovered that regular sessions reduced his pain and made everyday movement much easier, he decided to become a fully-qualified instructor.
[Read More]
Yiannis Flemming
Health and Sport Nutritionist BSc (Hons) MSc PgDip
Yiannis graduated in 2015 with an MSc in Athletic Development & Peak Performance from the Health & Exercise Science Faculty at Southampton Solent University after completing a BSc in Sport Science (Hons…
[Read More]