COVID-19 UPDATE
Podiatrists and Podiatric surgeons are key to the successful management of foot & lower limb pathology that will help avoid unnecessary visits to acute hospitals and in some cases admissions. Currently, it is more important than ever to avoid all avoidable hospital admissions.
Supporting the management of high-risk foot patients, to help avoid complications such as ulceration and specifically infection is essential.
Therefore we will be running a very minimal service for patients who are at high risk of complications that may result in hospital admission.
All routine and non-urgent treatments and assessments will be delayed until further notice for patients with low risk feet or they can be offered a remote consultation as per COP guidance
High risk conditions include:
Diabetic patients
Patient with ulcers and those who have had ulcers previously
Ingrowing toenails
Corns or Calluses that have previously bled or ulcerated
If you have any of the above conditions please email us on: 
The clinic is unmanned at this time. Your email will be picked up and forwarded to Chiropody who will triage and call you to ascertain whether you are a high risk footcare patient and require a consultation. 
Please do not call the clinic as we are not routinely picking up calls.
Chiropody will be seeing patients twice a week and booked in according to priority
PLEASE NOTE. THERE ARE STRICT INFECTION CONTROL POLICIES CURRENTLY ACTIVE IN THE CLINIC. PATIENTS WILL BE SEEN IN ACCORDANCE WITH COVID-19 CLINICAL GUIDANCE OF THE COLLEGE OF PODIATRY
IF YOU SHOW ANY OF THE SIGNS OF COVID-19 INFECTION YOU MUST SELF ISOLATE FOR 7 DAYS. IF ANY OF YOUR HOUSEHOLD SHOW SYMPTOMS YOU MUST SELF ISOLATE FOR 14 DAYS
So what is biomechanical podiatry?
Podiatrists are people who treat conditions that affect your feet and lower limbs. And the term 'biomechanics' refers to the mechanical way in which your body moves. Many people suffer from pain or injury in their lower limbs or back due to the posture of their feet and how they use them.
Expert help for foot problems
At Bodysym, our experienced podiatrists can assess the structure, alignment and function of your feet and lower limbs. Then they identify ways to improve how you move and walk in order to help reduce any pain.
You may need special shoe inserts (known as orthotics) to change how your feet move and to support them correctly as you walk. We can also create a personalised stretching and exercise programme.
Shoe inserts (orthotics)
An orthotic is an in-shoe device which alters the way your foot interacts with the ground. It can reduce the amount of rolling (in or out) as you step and reduce pressure on painful areas.
Orthotics are generally factory-made (or made-to-measure for severe problems) and can usually be transferred between most of your shoes. Bodysym can source standard, sports, bespoke and children's orthotics in a wide range of fits, materials and colours. Please note orthotics won't necessarily cure a condition. They're there to improve the position of your feet and lower limbs.
Walk your way
During our 1-hour assessment, we examine your feet and lower limbs then analyse your gait (way of walking) on a treadmill using state-of-the-art video software.
Afterwards we discuss our findings with you and advise which orthotic device will suit you best, if you need one. Then we develop a programme of exercises to help you regain full, comfortable movement.
Want happy feet?
Call 01843 590067 or email us to book an appointment today.
Our Clinic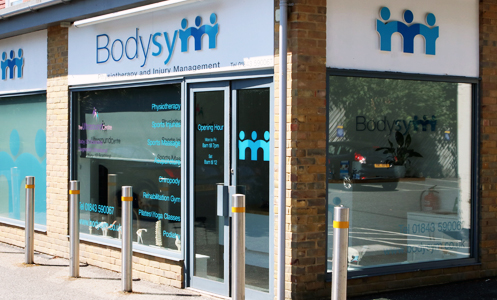 • Physiotherapy
• Chiropody
• Podiatry / Biomechanics
• Sports Injury Rehabilitation
• Sports performance evaluation
• Massage
• Pilates
The quality of the specialist expertise of the physiotherapist in the practice is simply outstanding – by far the best in terms of effective treatment I have ever experienced. [Read more testimonials]

C Corfield – Whitstable
Professional clinic and skilled physiotherapists helped me manage my ongoing pain.
[Read more testimonials]


Hannah – Ramsgate