So what is biomechanical podiatry?
Podiatrists are people who treat conditions that affect your feet and lower limbs. And the term 'biomechanics' refers to the mechanical way in which your body moves. Many people suffer from pain or injury in their lower limbs or back due to the posture of their feet and how they use them.
Expert help for foot problems
At Bodysym, our experienced podiatrists can assess the structure, alignment and function of your feet and lower limbs. Then they identify ways to improve how you move and walk in order to help reduce any pain.
You may need special shoe inserts (known as orthotics) to change how your feet move and to support them correctly as you walk. We can also create a personalised stretching and exercise programme.
Shoe inserts (orthotics)
An orthotic is an in-shoe device which alters the way your foot interacts with the ground. It can reduce the amount of rolling (in or out) as you step and reduce pressure on painful areas.
Orthotics are generally factory-made (or made-to-measure for severe problems) and can usually be transferred between most of your shoes. Bodysym can source standard, sports, bespoke and children's orthotics in a wide range of fits, materials and colours. Please note orthotics won't necessarily cure a condition. They're there to improve the position of your feet and lower limbs.
Walk your way
During our 1-hour assessment, we examine your feet and lower limbs then analyse your gait (way of walking) on a treadmill using state-of-the-art video software.
Afterwards we discuss our findings with you and advise which orthotic device will suit you best, if you need one. Then we develop a programme of exercises to help you regain full, comfortable movement.
Want happy feet?
Call 01843 590067 or email us to book an appointment today.
Our Clinic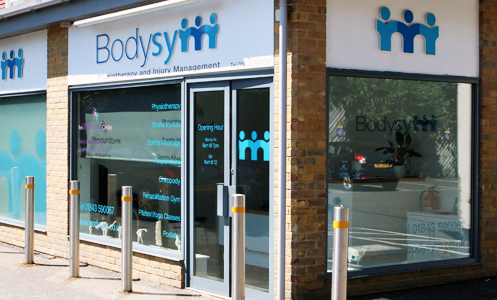 • Physiotherapy
• Chiropody
• Podiatry / Biomechanics
• Sports Injury Rehabilitation
• Sports performance evaluation
• Massage
• Pilates
What our clients say…
Fantastic treatment today from Craig!! Cannot thank him enough for getting me patched up and moving easier, especially when I do insist on getting back on stage tonight! You are my superstar! 5 stars!!

K Wilshaw- Westgate
Matt is brilliant. After ACL reconstruction he is such a positive influence on my physical journey to recovery. Highly recommended.

Kristina-Ramsgate
Very good service. Polite, courteous and efficient.

Paul – Ramsgate
The quality of the specialist expertise of the physiotherapist in the practice is simply outstanding – by far the best in terms of effective treatment I have ever experienced.

C Corfield – Whitstable
Took my 12yr old son to see Craig today. Brilliant! amazing Physio but more importantly great at talking to kids. Highly recommended. My son now wants to be a sports Physio and Parkour coach. Life goals sorted!

Sandra- Margate
Been to see Matt twice now and his knowledge is second to none.
Friendly staff too. Yes I would recommend this place.

Clare – Ramsgate
Professional clinic and skilled physiotherapists helped me manage my ongoing pain.

Hannah – Ramsgate
Excellent service highly recommended for post operative physio
5 stars!!

Lisa – Ramsgate