Pilates Classes Ramsgate
Controlled movement ∙ Individual attention ∙ Tailored programme
Pilates is an exercise technique for all levels of fitness and ages. It helps develop:
• Core stability • Strength and flexibility • balance and co-ordination • Posture and alignment • Injury prevention • Injury rehabilitation
Our experienced instructor Neil teaches small group classes (maximum 5 people) so we are able to make each class more personalised to the individual and spend more time with each of you, 1-2-1 customised sessions are also available here in our studio at Bodysym.
Group Classes (maximum 5 people)
Group Classes are friendly, fun and challenging. For all levels from complete beginner to advanced, you will learn correct breathing, core stability, correct posture and alignment and improving fitness levels for overall well-being.
1-2-1 Private Classes
1-2-1 classes are customised to your specific needs or goals – ideal for rehabilitation from injury including back, neck, shoulder and knee pain.
We use specialist pilates equipment – Reformer, Wunda Chair and Spine Corrector – to assist with the exercises, making it easier to learn and achieve the more challenging matwork exercises.
We include a postural assessment, detailed pictures, e-mailed video clips and descriptions of your personalised pilates programme for you to continue at home.
Call 01843 590067 or email us to book an appointment
Our Clinic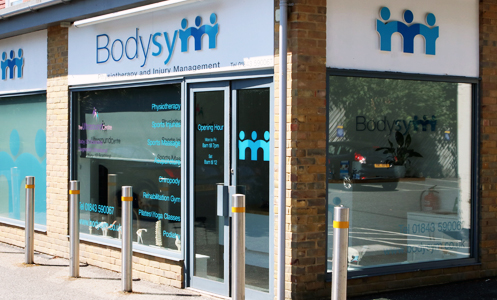 • Physiotherapy
• Chiropody
• Podiatry / Biomechanics
• Sports Injury Rehabilitation
• Sports performance evaluation
• Massage
• Pilates
The quality of the specialist expertise of the physiotherapist in the practice is simply outstanding – by far the best in terms of effective treatment I have ever experienced. [Read more testimonials]

C Corfield – Whitstable
Professional clinic and skilled physiotherapists helped me manage my ongoing pain.
[Read more testimonials]


Hannah – Ramsgate